Salt Water Anglers of Bergen County, New Jersey
Recipes
Mediterranean Fish by Mark Capalbo
<![if !supportLists]> · <![endif]> 4 filets of fish - preferably Striped Bass or Cod
<![if !supportLists]> · <![endif]> 2 shallots chopped
<![if !supportLists]> · <![endif]> 1 roasted pepper - sliced and chopped
<![if !supportLists]> · <![endif]> 1 handful of capers - crush in pan
<![if !supportLists]> · <![endif]> 1 1/2 cups of white wine - your choice
<![if !supportLists]> · <![endif]> 2 to 3 splashes of red wine vinegar
<![if !supportLists]> · <![endif]> 1 to 2 teaspoons of chopped garlic
<![if !supportLists]> · <![endif]> 2 to 3 tablespoons of olive oil - for sautéing
<![if !supportLists]> · <![endif]> 2 to 3 tablespoons of seasoning for fish - your choice or I prefer Chef Paul Prudhomme's Magic Salt Free.
Season fish on both sides and place in pan that has the olive oil heated. Cook the fish about half way and remove to a plate and keep warm (aluminum foil over it works OK).
Put the shallots, roasted peppers red wine vinegar, white wine, chopped garlic and capers in the pan and simmer for about 7 minutes. Place fish in pan to cook through, get warm and absorb seasonings. Plate fish and pour sauce all over the fish. Enjoy with rice, vegetables and the rest of the white wine you opened.
(I don't like the smell of fish cooking in the house so I season the fish on both sides, place the fish on a sheet pan covered with aluminum foil and sprayed with Pam. I cook for about 7 minutes on each side and bring them into the house. The fish is added to the sauce to absorb seasonings and cook through).
---
Fish Livornese - can be striped bass, blackfish or any fish (baked) - by John Toth
<![if !supportLists]> · <![endif]>Fish fillets (2lbs. or less)
<![if !supportLists]> · <![endif]>dash salt & pepper
<![if !supportLists]> · <![endif]>2 tsp. olive oil or more if needed
<![if !supportLists]> · <![endif]>green olives - pitted (get at your deli - about a dozen)
<![if !supportLists]> · <![endif]>1/2 onion - chopped
<![if !supportLists]> · <![endif]>black olives - pitted (get at your deli - about dozen)
<![if !supportLists]> · <![endif]>capers - few
<![if !supportLists]> · <![endif]>2 - 4 oz. white wine (or more if needed)
<![if !supportLists]> · <![endif]>2 - 3 strips of anchovies
<![if !supportLists]> · <![endif]>2 cloves garlic crushed
<![if !supportLists]> · <![endif]>14 oz. of crushed tomatoes
<![if !supportLists]> · <![endif]>pinch of dry oregano
<![if !supportLists]> 1. <![endif]>Wash fish & place on paper towels (top & bottom) & get the water out of fish
<![if !supportLists]> 2. <![endif]>Saute onion in pan with olive oil until translucent & then add wine, olives, capers, anchovies, tomatoes garlic, oregano, salt & pepper. Mix well & let the ingredients come up to a slight boil for about 10 minutes or less. Want to make ingredients blend well to enhance taste. May have to add some wine.
<![if !supportLists]> 3. <![endif]>Place fish in baking dish & pour all of this sauce over the fish.
<![if !supportLists]> 4. <![endif]>Bake at 400 degrees for about 20 minutes. (goes well with rice & polish off the wine you have left) - Enjoy!
---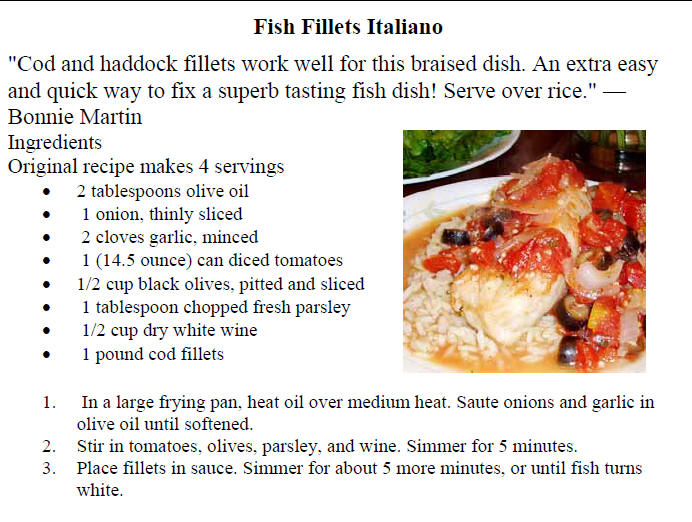 Fish in Foil
"The 'no smell' fish recipe that is the ONLY one I make for my family (I hate fish,
they LOVE it!). Take foil packets to table for service, and keep them around for
the discarding of bones and skin. Then when dinner's done, haul those babies to
the outside trash."
Ingredients
Original recipe makes 2 servings
 2 Black Fish fillets
 1 tablespoon olive oil
 2 teaspoons garlic salt
 1 teaspoon ground black pepper
 1 fresh jalapeno pepper, sliced
 1 lemon, sliced
Preheat oven to 400 degrees F (200 degrees C). Rinse fish, and pat dry.
Rub fillets with olive oil, and season with garlic salt and black pepper. Place
each fillet on a large sheet of aluminum foil. Top with jalapeno slices, and squeeze
the juice from the ends of the lemons over the fish. Arrange lemon slices on top of
fillets. Carefully seal all edges of the foil to form enclosed packets. Place packets
on baking sheet.
Bake in preheated oven for 15 to 20 minutes, depending on the size of fish. Fish
is done when it flakes easily with a fork

Skate Wing with Brown Butter– by Richard Bunger
Skate wings in brown butter was the first way I learned to cook these odd relatives of the shark. Saltwater anglers catch lots of skates while looking for other fish, and they are perfectly tasty once you skin them, remove the tough centerline of cartilage and cook them gently -- don't over cook skate wings or they will become rubbery.

Prep Time: 10 minutes
Cook Time: 10 minutes

Ingredients:
1-2 pounds skate wings, filleted and skinned
4 T unsalted butter
Flour for dusting
3 tablespoons drained capers
1/2 lemon

Salt
2 T fine chopped chives, for garnish

Preparation:
Take the skate wings out of the fridge and salt lightly. Let stand for 15 minutes.
Heat a pan over high heat for 3 minutes. Turn the heat down to medium-high and put in 2 tablespoons butter.
Meanwhile, dredge the skate wings in flour and shake off the excess. Fry in the butter over medium heat, about 2-3 minutes per side. Be careful when turning, their odd muscle structure makes them difficult to flip without breaking.
Remove the skate wings to a warm oven and add the 2 other tablespoons of butter. Cook over medium heat until the Whey in the butter is a light brown. Add the juice of ½ a lemon & remove from heat -- it will spatter. Scrape any bits that may have stuck on the bottom.
Sauce the skate wings, garnish with the chives and serve immediately. This goes well with simple rice dishes or mashed potatoes. For a wine, try a Sancerre or a Greek assyrtiko. - Enjoy!.

Porgy, Roman Style: Pagro alla Romana By Richard Bunger
Ingredients
3 lbs porgy
2 lbs fresh peas
14 cup extra virgin olive oil
6 cloves garlic (thinly sliced)
4 scallions (thinly sliced)
1/2 cup dry white wine
1/4 cup fresh mint (leaves)
yellow squash (grilled)
Directions
Preheat the oven to 450 degrees F. Cut, clean and scale the fish and season with salt and pepper inside and out. Shell the peas and set aside. In a sauté pan large enough to hold the fish, heat the olive oil until smoking. Place the fish in the pan and shake vigorously. Sauté 2 or 3 minutes, until the fish starts to crisp on the first side, and the flip it over. Add the garlic and place in the oven for 12 to 15 minutes, or until the fish is just cooked through. Remove and place the pan on the burner and remove the fish to a service platter. Add the peas, scallions and white wine to the pan and sauté 1 minute. Add the mint leaves and immediately pour the sauce over the fish. Serve with some grilled yellow squash
Good Recipe for Grilling Striped Bass – By John Toth
While on a fishing trip with Captain Frank Tenore on the Fins on Feathers and crew, I asked Captain Frank how he cooks the striped bass he catches. He told me how and this is this is way I do it based on what Captain Frank told me.This is now the season to catch striped bass and this recipe works very well on the grill. Use fillets that are about 2 inches thick or more.
• Clean the fish & place the fish on paper towels to get the water out of them so that they absorb whatever marinade or sauce that you want to cook them with it (top & bottom) to get all the water out of the fish. I only use the fillets, with no skin on them.
• Place the bass in a container (baking dish) so that it lays flat and marinade it with Italian salad dressing. Do not use too much salad dressing, just enough to wet the fillets. Also, turn the fish over so that the under side gets marinade on it. Marinade the fish around 5 hrs. before grilling.
• Heat up the grill before grilling the fish. Then turn off to let it cool, then spray the grill with a cooking oil.
• Heat the grill back to 400 degrees and then set the fish on the grill. After about two minutes, I wet the fish with marinade. Then, using a turner/spatula to move the fish about an inch or so. This keeps the fish does not stick/weld on the hot grill that locks in the juices. Grill one side of the fish for about 7 minutes. Then I baste some marinade on the fish and then flip the fish over and repeat the moving of the fish after two minutes (just enough marinade to keep the fish moist).
• Grill the fish for about 12 –14 minutes total. Do not overcook fish!
• Chilled white wine and a salad go very nice with the bass. ENJOY!
Fresh for the table - Blackened Salmon Chef George Beyer

Ingredients:
4 (6 to 7-ounce) pieces salmon
Seasoning Blend

1 teaspoon Salt, 1 teaspoon Smoked Paprika, 1 teaspoon Ground Cumin, ½ teaspoon Cayenne Pepper, 1 teaspoon Granulated Garlic, 1 teaspoon Granulated Onion, 2 teaspoons Dry Oregano

Mix all dry ingredients together. Store in a small container.
Sprinkle salmon evenly with the seasoning blend on all sides
In a large, heavy skillet over high heat, place salmon in hot pan, (turn on the vent hood as the fish will start to smoke.) Cook until blackened, 1to 2 minutes. Turn fillets, continue cooking until blackened and when fish can be easily flaked with a fork. Remove from skillet. Serve on a bed of crunchy Romaine lettuce, topped with your favorite Caesar dressing.
Mediterranean Fluke – By John Toth
We are into the fluke season and this is a very easy way to prepare your fluke and also enjoy a healthy meal. It is also
very tasty.
Ingredients:
• Fluke fillets – About 2 lbs. or so.
• 1 can dice tomatoes drained. (I used the one that had some basil & oregano in it, but plain diced tomatoes will
do fine).
• 1 can (14 oz.) of water-packed artichoke hearts. Drain the artichokes & chop them up
• ½ to ¾ cup of black olives – chop them in half. You can use can olives, but deli bought Kalamata olives with
pits removed are better.
• ½ cup of crumbled feta cheese or a little more to more to your liking.
• Dash of black pepper or salt to your liking
Place fillets in a baking dish coated first with cooking spray
Top the fluke with the tomatoes, artichokes, olives and feta cheese
Add some black pepper to your liking
Bake at 400 degrees for 15-25 minutes
A nice bottle of chilled white wine or even red goes well with this dish. Enjoy!